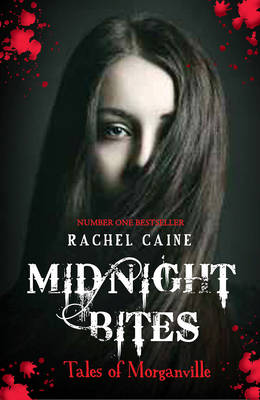 If you've read my blog at all before, then there's a very high chance that you've heard me express my love and adoration for the Morganville Vampire series by Rachel Caine. As well as the MV series, Rachel has written a multitude of books that I have devoured and loved
almost
equally. Morganville will always hold a special place in my heart though. I even have a (VERY slight) personal connection. Myrnin, an insane yet loveable vampire, hales from none other than Conwy, North Wales - just like me.
I have had the pleasure of meeting Rachel twice before but have only managed to get a handful of books signed due to time constraints and huge queues. This time was so different though, and so wonderful and lovely! We browsed the shelves of Waterstones for a while where my enabling boyfriend bought me copes of All The Bright Places by Jennifer Niven and Extraordinary Means by Robyn Schneider :) After a bit too much browsing, I noticed a whole bunch of people taking their seats so we had to rush over. Thankfully, my as above wonderful boyfriend took charge of getting my stuff together so I could run over in time! All the signing events that i've attended before have been rush jobs. Queue, put books in front of author, sign, leave. This was a whole different experience for me and I loved it!
Rachel began by telling us a lot about herself, her aliases, how she got started etc. I did know most of it as I'm a bit of a Rachel-stalker but it was nice hearing it from herself. She then held a Q&A which again, I really enjoyed. I was even brave enough to ask my own question - Rachel loves Myrnin & Shane the most too! It was such a relaxed atmosphere and though it was extremely girl-heavy there was a wonderful mix of ages. Following this, we were treated to a reading! Rachel read a chunk of the short story Vexed, featuring Myrnin and Oliver. Is there anything better than hearing a story read by the person who created it? You get a real sense of the intention and meaning behind the words.
Once the reading was finished, we began the queuing to get our books signed. This was the part I was most nervous about. For once it wasn't even because I was nervous to meet her; it was the sheer amount of books that i'd brought with me to get signed. 16 in total. The staff at Waterstones and Rachel were actually so nice about it. I had to queue three times but it was absolutely worth it. As is typical, we had a chat about my name (it tends to be what gets me noticed most often!) and lots of other random things. We were also given goody bags which I may still be fangirling about. The bag itself is a red tote with Midnight Bites on it :)
Though I never have much trouble picking up a book and reading it - the whole experience reminded me of just how much I love to read and how much a part of me it is. We are so lucky that we get to meet the people behind the words and actually learn from them. Rachel was so open and honest about writing and publishing. I'm sure there were more than a couple of people who left the building that night, inspired and ready to write.
Me though? I'm not a writer. I just love to be immersed in the worlds and imaginations of others. So with that, keep an eye out on my upcoming review of Midnight Bites. I've been so looking forward to the day I could return to Morganville and it's finally here.