Published
- 14th May 2015
Publisher
- Sphere
Format
- Hardback
Synopsis
- 'I pushed and persevered through the crap all teenagers go through - the bullying, the boys, the peer pressure, the friends, the enemies, the frenemies... Now I'm here, watching you guys go through almost identical experiences; trapped on the wrong side of a computer screen. Helpless... Until now.'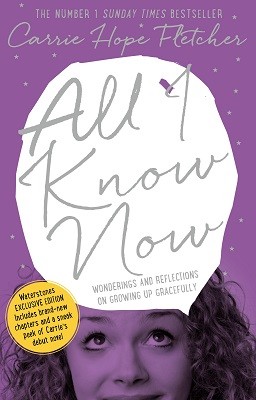 Is there anyone left on the internet that isn't a Hopeful? Well this 28 year old is! *throws out all of the love*
Confession time: I was incredibly sceptical about reading this book. You can probably tell that by the sheer amount of time it has taken for me to read it. Alex bought me this on a new year book shopping trip because he'd also gotten me Carrie's first novel as a Christmas present. I'd not really been interested before then because i'd just assumed it was aimed at her younger audience. At 28 years old, how was advice on boys and first days at school going to help me in any way? A lot, apparently.
For SURE it is aimed at a younger audience, but as i've always championed before - what you get out of a book is what you put into it. So I may not have a first day at school in my future but i'm sure there'll be first days at work, first days in a new team, first day...etc etc. You get the point. There are so many great anecdotes and general information in this book that you really can apply it to every day life. I'm a naturally socially anxious and awkward person and so advice is something I'm always happy to listen to.
I really appreciated the 'props' section at the back of the book that was filled with TONS of usual and helpful information for people who need it. It would have been instrumental to my teenage self and i'm so glad that this kind of thing is out there in the world and is so easily accessible.
One of Carrie's biggest personality traits (and is why so many people LOVE her) is her ability to make you feel like you're talking to a friend. When you sit and watch her videos (or read this book!), you truly feel like there is someone out there who cares that you're ok. She has an amazing quality that makes you think that if you knew her IRL, you would be friends. She's an incredibly rare and special personality in this world and I'm SURE that we'll be seeing a lot more of Carrie in the future.